Soak Up the Last Days of Summer in St. Augustine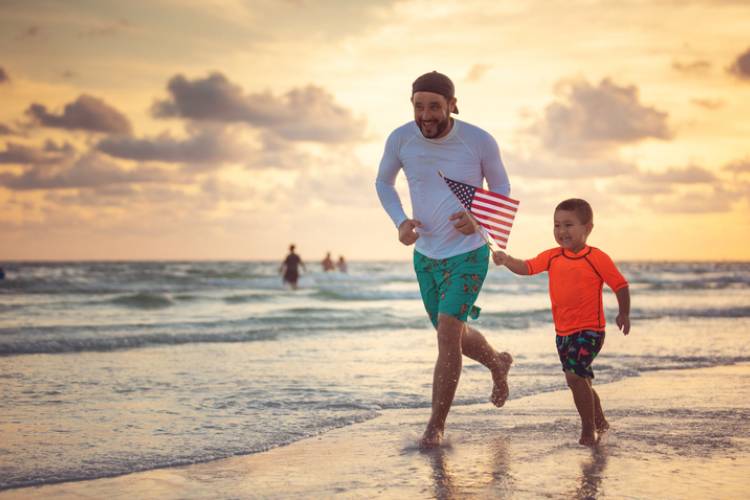 Not ready for the summer season to be quite over yet? Enjoy St. Augustine's Labor Day celebrations! Temperatures are still pleasantly warm with highs in the 80s and lows in the 70s in September while the height of the summer crowds has cooled off. Enjoy historic downtown, the stunning beaches, and family-friendly attractions during the last weeks of summer!  
Plus, you can still partake in the summer activities that are still taking place. Or you can book a stay over Labor Day weekend to take advantage of the long weekend! Here are a few of our suggestions on how to celebrate the last few weeks of summer in St. Augustine: 
St. Augustine First Friday Art Walks  
Start off Labor Day weekend with a stroll through St. Augustine's art scene! This weekend, the Art Walk will be taking place on Friday, September 2nd. Around 30 galleries will open their doors and invite visitors in to admire the art and enjoy the pieces on display. The art walks also feature live music and entertainment making for a fun night out on the streets of St. Augustine! Enjoy viewing the art or maybe even find a piece to take home for yourself!
457th Anniversary Founder's Day Celebration 
Revel in the history of the oldest city in the United States! The Founder's Day Celebration marks the anniversary of Pedro Menendez making landfall at what has become the National Shrine of Our Lady of La Leche. This event will be celebrated on September 3rd, 2022 with a historical reenactment as well as activities at the Fountain of Youth Archaeological Park. Learn more about the history of this beautiful, coastal Flordia destination!  
St. Augustine Amphitheater Farmers Market
Saturday mornings are host to the St. Augustine Amphitheater Farmers Market! From 8:30 AM to 12:30 PM, find vendors selling their fresh produce, food, craft items, art, and more! Live music will also accompany this family-friendly market. Find your new favorite local cuisine or piece of art at this locally sourced market and event! 
Make Barefoot Trace Your Home Base 
Barefoot Trace is a beachfront paradise perfect for a late summer vacation. Find your ideal home-away-from-home in a St. Augustine vacation condo that offers guests access to resort-style amenities like beach access, an oceanfront outdoor pool, and a tennis court! Make the most of your St. Augustine vacation by finding a Barefoot Trace vacation rental!