Free and Inexpensive Things to Do in St. Augustine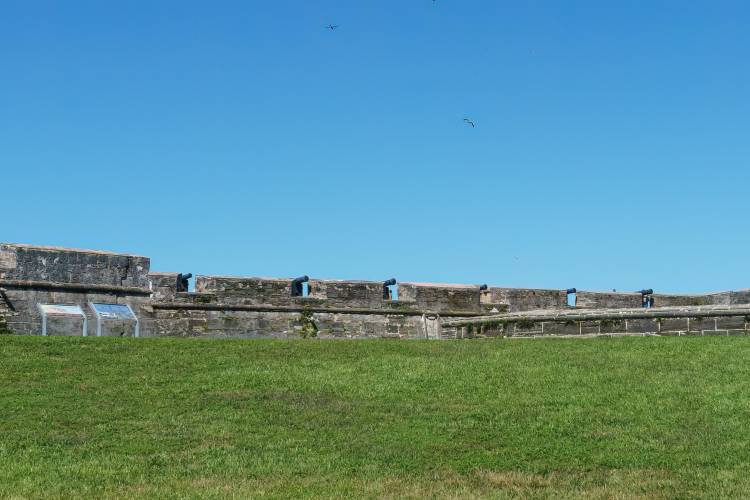 If you are visiting for the winter months in beautiful St. Augustine, there many free or low-cost activities to experience.
1. Of course, the number one reason for a stay in St. Augustine is the 42 miles of shoreline. A day on the beach is never a wasted day!
2. Historic Downtown St. Augustine - A walk around the historic district is always a nice way to spend time plus walking is great exercise! If you are visiting during the month of January, the Nights of Lights continues until January 31 and now that Christmas is over, it's not as crowded downtown. You definitely need to take a stroll down St. George Street with charming shops, restaurants, and art galleries and don't forget to check out the side streets for more interesting places to explore.
3. Fort Matanzas - It's just a short ride down A1A where you can ride the free ferry over to Fort Matanzas, a watchtower completed by the Spanish in 1742 to guard the southern entrance to St. Augustine. Admission to the park and the ferry ride is free. Check their website for hours of operation and updates on the ferry to the Fort.
4. Castillo De San Marcos - Built by the Spanish in St. Augustine to defend Florida and the Atlantic trade route, Castillo de San Marcos National Monument preserves the oldest masonry fortification in the continental United States and interprets more than 450 years of cultural intersections. It is open to the public seven days per week except Thanksgiving Day (fourth Thursday in November) and Christmas Day (December 25). A maximum capacity of 350 visitors in the historic fort at any time will be in effect. First admission is at 9:00 a.m. and last admission is at 5:00 p.m. The Castillo closes and visitors must exit at 5:15 p.m. The park grounds are closed from midnight until 5:30 a.m. The Castillo de San Marcos is considered to be a "walk-in" park. The entrance fee applies to each individual. Tickets are not transferable and cannot be given to other guests. The entrance fee for adults (16 and above) is $15.00 and is valid for 7 consecutive days. Children (15 and under) are admitted free but must be with an adult. Only credit and debit cards are accepted for payment. You can find more information at https://www.nps.gov/foma/index.htm. 
5. Fort Mose Historic State Park - This is the first free African settlement in North America. The original fort is not there anymore, but the site and visitor center honors the those who escaped slavery. It is open 9 AM to 5 PM daily and admission is free and the museum admission is only $2.00.
6. Historic Church Tours - There are beautiful historic churches in the area including Memorial Presbyterian Church, Mission Nombre de Dios, St. Augustine Cathedral Basilica, and Grace United Methodist Church. Check church websites for tour dates and times.
7. Governor's House Cultural Center and Museum - This was the residence of Florida's Spanish and English colonial governors and has hosted many visitors, including two Kings of Spain. The exhibit in the lobby shows the great history of this historic city - the oldest continuously occupied settlement in the United States. Admission is free and open daily from 10 AM to 5 PM.
8.  St. Photios National Greek Orthodox Shrine honors the first Greek settlers in America. There is no cost to enjoy a tour of the museum and beautiful chapel filled with Byzantine-style icons and frescoes. It is open 9 AM to 5 PM Monday to Saturday and Noon to 6 PM Sunday.
9. National Shrine of Our Lady of La Leche at Mission Nombre de Dios Museum - This shrine is located on the mission grounds where you can learn about the early days of Catholicism in St. Augustine. Admission is free and while here, you can visit the Great Cross that is the tallest free-standing cross in the Western Hemisphere and marks the spot of the first Catholic Mass in the United States. The La Leche Chapel is located on the grounds as well. Hours are 10 AM to 4 PM Monday to Saturday and on Sunday Noon to 4:00 PM
10. GTM Research Reserve - The GTM Research Reserve, one of the country's 29 special estuarine research areas, starts in Ponte Vedra and continues south for 40 miles to Marineland. Containing 74,000 acres that includes salt marches and a maritime hammock, it's wonderful for exploring, hiking, and launching boats and kayaks. The Visitor Center in the northern section of the Reserve has life-size replicas of fish and wildlife living in the estuary. It is open 9 AM to 4 PM daily except for Sunday and Monday.
This is just a short list of free and inexpensive activities in St. Augustine to explore during your visit here. There is no shortage of things to discover and enjoy here in our beautiful, historic town. After a day of learning and exploring, how wonderful to return to your oceanfront retreat to enjoy the relaxing sights and sounds of the ocean just outside your condo at Barefoot Trace Condominiums.