Fort Mose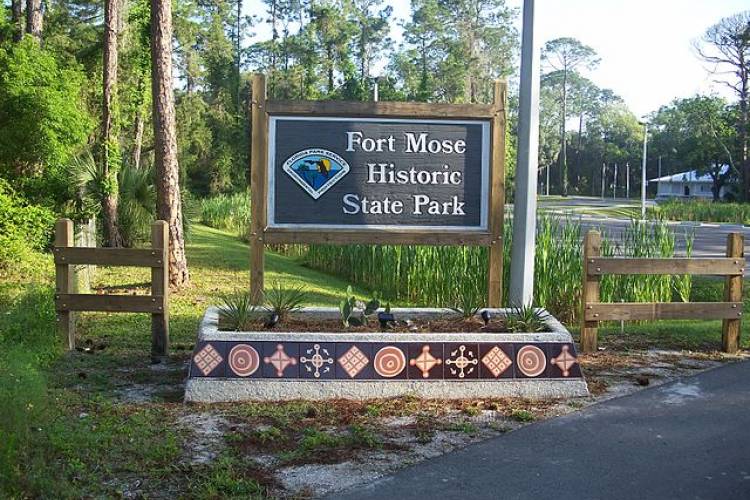 Check out one of the hidden gems of St. Augustine - Fort Mose Historic State Park, a 40-acre waterfront historic site. The park offers picnic areas, observation and birding boardwalk, kayak launch boardwalk, a visitor center and museum.
Many educational opportunities are available, particularly for visitors interested in history or wildlife viewing. Those inclined toward history will enjoy the interactive museum that tells the complete story of the first legally sanctioned free African settlement in what would become the United States. The museum is open 9 a.m. to 5 p.m., Thursday through Monday. Due to local orders, facial coverings or masks are required inside buildings for staff and visitor safety. Restroom availability may be limited. All other park facilities are closed. Visitors are expected to maintain distances of at least six feet apart. Although there are no remains of the earth and wooden structures, visitors can view the land where the settlement once stood.
Visitors interested in birding will enjoy ample viewing opportunities for species such as the great blue heron, bald eagle and white ibis. This time of year is a great time to view the wildlife from the boardwalk which overlooks the marsh or maybe have a picnic lunch at the pavilion. Have your binoculars and camera ready!  With 107 bird species identified within Fort Mose State Park, visitors can discover numerous species of birds inhabiting the park. And you don't have to be an expert birder to enjoy this special activity either! Guided bird walks are offered every month by knowledgeable staff, so the entire family can enjoy this wildlife viewing opportunity. The park is also an important rookery for resting birds along the east coast of Florida, hosting imperiled species such as the wood storks that inhabit the salt marsh/maritime hammock. Fort Mose is located along the eastern coastal flyway for migrating birds. These birds migrate thousands of miles in the fall and spring, and often suffer from exhaustion and malnutrition. The park provides a critical stopping point for birds to feed and rest. As such, the park is part of the Great Florida Birding and Wildlife Trail and has been designated as an Important Birding Area by the National Audubon Society.
The Fort Mose Militia bring the 18th century back to life by practicing their firing drills, and by teaching new members historic weapons use and safety. Visitors to the park can witness the weapons demonstrations, which include musket firings. Children of all ages are welcome to participate in children's militia training, including wooden toy muskets and authentic uniform accessories. This unique experience provides for great photo opportunities and is a wonderful way to spend a day enjoying a state park and immersing yourself in history. 
For additional information, please contact Park Services Specialist Carl P. Marchand at Carl.Marchand@FloridaDEP.gov.