Fun Activities for Nights of Lights 2021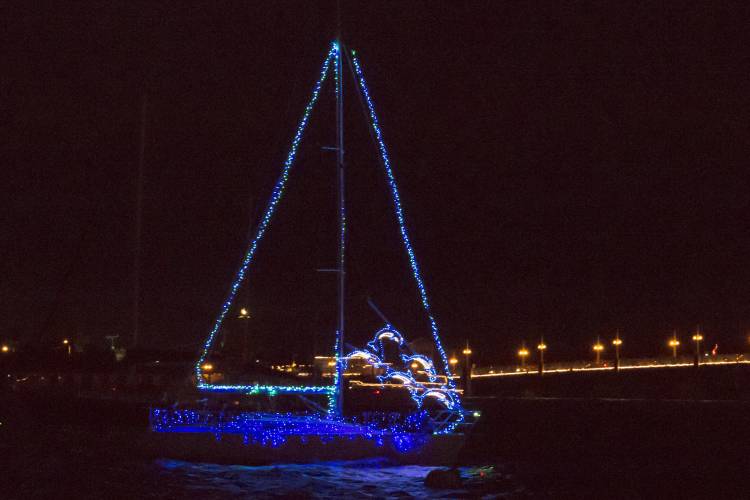 Planning a holiday visit to our historic city? There are many fun, family-friendly activities scheduled during the annual Nights of Lights Festival which runs from November 20 to January 31.
Nights of Lights Light-Up! Night 2021
November 20 @ 4:00 pm
Nights of Lights "Light-Up! Night" is a great way to start the holiday season.  Beginning at 4:00 PM in front of the Lightner Museum there is a performance by Showtime USA, a song and dance troupe of young people. Then the All-Star Orchestra will perform on the Gazebo in the Plaza de la Constitucion with wonderful swing and big band sounds at 5:30 PM. After the beautiful holiday music, the countdowns to the most anticipated events occur - the lighting of the Christmas Tree at 6:30 followed by a second countdown to turning on the millions of tiny white lights setting the entire historic district aglow. Once the lights are on, continue to enjoy the holiday music, do some Christmas shopping, visit one of our fine restaurants, and just walk around enjoying the beautiful holiday atmosphere.
The St. Augustine Nights of Lights Festival of Art is one of the premier outdoor Festivals in Northeast Florida. This popular art fair features top artists, Folk music, food trucks, "Art Bar" with wine, beer & signature drinks & cultural events.
Admission: Free
Days: November 27 and 28
Hours: Sat 10am‑5pm, Sun 10am‑4:30pm
Address: Francis Field, 25 W. Castillo Drive, Saint Augustine, FL 32084
Tours for Nights of Lights 2021-22
Nov. 20, 2021 to Jan. 31, 2022
There are many great tours that take guests around St. Augustine's amazing Nights of Lights holiday display by land and water: Old Town Trolley's Famous Nights of Lights Tour, Ripley's Red Trains Nights of Lights Tours, Eco Tours Nights of Light Boat Tour, Scenic Cruise Nights of Lights Tours, St. Augustine Boat Tours Nights of Lights Tours, Florida Water Tours Nights of Lights Tours, Private Golf Cart Nights of Lights Tours with St. Augustine Land and Sea Tours, St. Augustine Sailing Nights of Lights Charters, Nights of Lights on the Black Raven, Old Town Cycle Cruise, Gold Tours Private Nights of Lights Tours, Bluewater Adventure Cycle Boat Nights of Lights Tours, Explore Tours Nights of Lights Tours, First City Helicopters Nights of Lights Tours, Schooner Freedom Nights of Lights Sails, The Tasting Tours Nights of Lights Tours, St. Augustine City Tours Nights of Lights, and Pineapple Tours Nights of Lights.
Nights of Lights Scavenger Hunt 2021 - Ancient City Tours now offers a special hunt for the holidays in St. Augustine — the Nights of Lights Scavenger Hunt. The hunt takes participants on a search for clues through the downtown streets that are all lit up for St. Augustine's world-renowned Nights of Lights. It focuses on the dazzling lights display that illuminate St. Augustine for two months during the Christmas holidays. This seasonal hunt is picture-based, with lots of riddles and puzzles to be solved along the way. Hunts are available every day of the week. The hunt is self-guided and does not require prior reservations. Great for families and groups, you can have multiple teams of 2 to 6 people playing against each other. The scavenger hunt can also be timed and played as a race.
Admission: $15 per person.
When: Nightly from Nov. 26, 2021, to Jan. 30, 2022.
Where: Ancient City Tours is located at 12 St. George St. in historic downtown.
Regatta of Lights 2021
Saturday, December 11, 2021, 6 p.m.
A St. Augustine holiday tradition, the St. Augustine Regatta of Lights, brightens the bayfront with festive lights and decorations on boats of all shapes and sizes as they parade along Matanzas Bay. Hosted by the St. Augustine Yacht Club, it's a stunning sight for spectators along the bayfront between the Bridge of Lions and the Castillo de San Marcos. The participants compete for best theme, most colorful, best in class and best overall. The Regatta is an event you don't want to miss if you are visiting around the December 11 date.
For more information on the Regatta of Lights, call (904) 824-9725.
Admission: Free for spectators
When: 6 p.m. Saturday, Dec. 11, 2021
Where: Along St. Augustine's bayfront between the Bridge of Lions and the Castillo de San Marcos.
Once you have enjoyed an evening of holiday cheer, you will love returning to your warm, spacious condo for a restful evening falling asleep to the ocean sounds at your Barefoot Trace oceanfront condo. You can check availability and book a St. Augustine Vacation Rental online or by calling 800-587-2287 for assistance by one of our reservationists.