Enjoy the beautiful beaches of St. Augustine!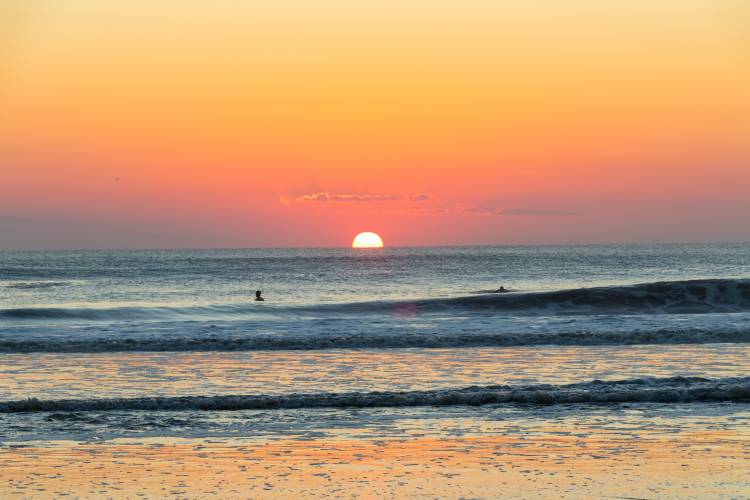 With miles and miles of beautiful beaches, from Vilano Beach in the north to Crescent Beach in the south, you can't go wrong with any place you choose for beach recreation and relaxation. If you prefer a beach where no cars are allowed, there is Anastasia State Park and further south on St. Augustine and Crescent Beach, you can drive a car on the beach. Please check conditions before driving on the beach as frequently only four-wheel-drive vehicles are allowed or strongly recommended.
To help you plan your day on the beach, please read the rules below. You can also download the Reach the Beach App (The St. Johns County Beaches App). Check here for more information - http://m.appbuild.io/stjohnsc6. This app provides quick access to beach driving conditions, access and facility locations, lifeguard information, and emergency contacts
Beach Rules
SJC beach visitors are able to enjoy a wide range of activities. While at the beach, please be considerate of the environment, the animals that live there, and other beach goers. It will help ensure the beaches are a joy both now and for years to come.
Prohibited Items / Activities
·         No loud music.
Music may not be heard more than 25 feet from its source.
·         Alcoholic beverages & glass containers prohibited.
·         Open fires prohibited.
Heated objects (coals, etc.) must be disposed of properly.
·         Fireworks prohibited.
·         Unleashed animals prohibited. Please clean up after your animals.
·         No soliciting, canvassing, or commercial activities.
·         Motorized boats may not launch from the Atlantic Ocean Beach.
Vehicle Rules
·         Beach driving / parking hours are 8:00 am to 7:30 pm during sea turtle season (May 1 – October 31).
·         Vehicle traffic must remain in designated driving lanes as identified by cones.
·         Park only on the west side of the lane between cones and conservation zone.
·         Vehicle speed limit is no faster than 10 mph on the beach.
·         All vehicles are required to stop at all beach ramps and yield to all pedestrians.
·         Traffic is southbound only between A street Ramp and Crescent Beach Ramp.
·          
Rules to Protect Natural Resources
·         Fill all holes left by sandcastle building, tire ruts, etc.
·         Do not leave anything on the beach overnight.
Includes tents, chairs, catamarans, trailers, personal items.
·         Use designated walkovers to cross dunes.
·         Do not remove beach sand or vegetation.
·         No activities are allowed within the Conservation Zone. CZ is designated by brown signs.
·         Harassing animals is strictly prohibited.
·         Reduce beach front lighting. Turn off or shield lights, draw curtains.
·         Lanterns and flashlights are strictly prohibited during sea turtle season (May 1 – October 31).
Contact
For more information about St. Johns County Parks and Recreation, beaches, pavilion rentals, and beach wheelchair program, please call (904) 209-0341. Office hours are 7:30 a.m. to 3:30 p.m., Monday-Friday. Please allow up to 72 hours for a response.
You can enhance your stay on the beach by booking your vacation at one of Barefoot Trace's beautiful two-bedroom oceanfront condos, so your gorgeous ocean views never end.  Call 1-800-587-2287 and one of our associates will be glad to help you with a reservation.